First of all, I shall start by saying that the number of Covid-19 infections increasing in Malaysia is very worrying. I have to say that the conditional movement control order (MCO) is a good move to help control the spread once again. And yes, targeted conditional MCO is much better than a nationwide one. I agree that the economy can't take it.
Now, with all that said, I think that the declared conditional MCO in Selangor, Kuala Lumpur, Putrajaya and Sabah seems to be a little too suspiciously coincidental with the declaration by PKR president Anwar Ibrahim that he has the majority support of parliament to take over the government.
Before you call this a conspiracy theory, here me out. Remember when the first MCO was declared? It was just two weeks after Bersatu president Muhyiddin Yassin and PKR defector Azmin Ali orchestrated the Sheraton Move to wrest the government away from then prime minister Dr Mahathir Mohamad and Pakatan Harapan.
Mahathir and Harapan were in the midst of strategising to see if they could fight and regain power. But once the MCO was declared, there was really nothing that could be done. The pandemic took precedence and all activities in Parliament and elsewhere prioritised that. A motion of no confidence against Muhyiddin as the prime minister was also suppressed because of this.
Sure, the MCO had to be implemented because the coronavirus was spreading wildly. There is no denying that. But it was just so conveniently timely for Muhyiddin, Azmin and the rest of the Perikatan Nasional (PN) gang, wasn't it? Wow! I do sound like a conspiracy theorist, don't I? But let's not be too naive. This is Malaysian politics we're talking about.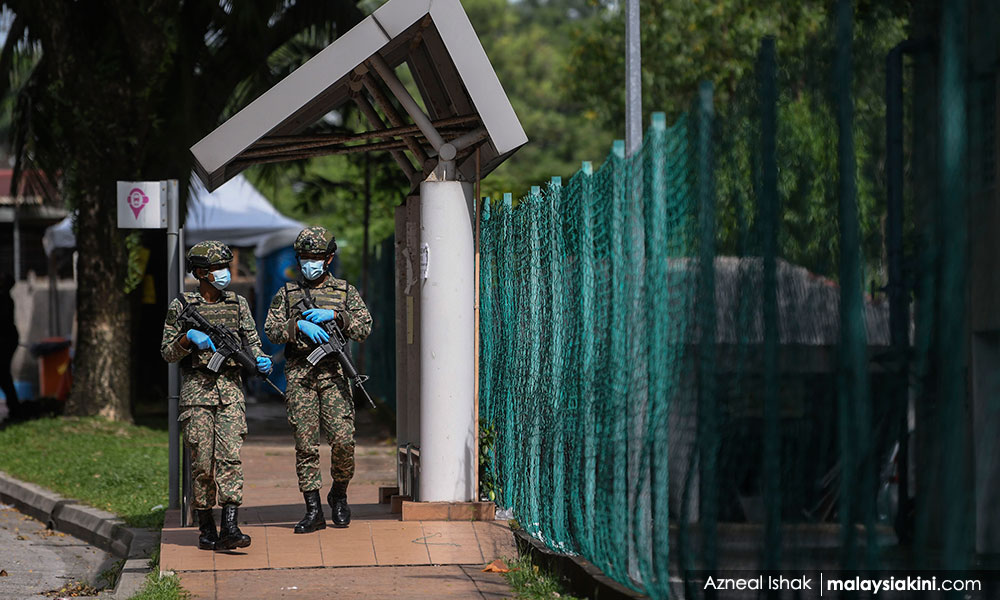 Now this recent conditional MCO that was declared. If we look at it, initially, the two states that had the highest spikes in this "third wave" was Sabah and Kedah, the prior being way above any other state. But no conditional MCO was declared because a snap election had been called and all the politicians wanted to campaign.
Now, the government could have just easily declared a conditional MCO which would have probably meant that the snap election would be postponed. But because it served their interest in going into the elections, no conditional MCO was declared. Then, of course, we saw a slew of politicians who had gone to Sabah playing their role in spreading the virus everywhere else.
Only after the elections were over and the virus started spreading in the Peninsular did the government decide to implement the conditional MCO in several areas. Kedah, which had the second-highest number of infections, is not under a statewide conditional MCO. Over there, a more targeted conditional MCO was implemented.
But for some funny reason, the government decided to declare a statewide conditional MCO in Selangor, Putrajaya and Kuala Lumpur even though a more targeted approach similar to Kedah could have sufficed since only certain districts were badly affected. Could it be because it would make it harder for Anwar to execute his "Le Meridien Move"?
As it is, after Anwar had his audience with the Yang di-Pertuan Agong to inform of the support that he has in Parliament, the Agong cancelled his scheduled meetings with other MPs and party leaders due to the conditional MCO. The restricted movement also means the restricted ability for politicking and strategising. Very smart PN!
Of course, this is all speculation but hey, this is Malaysia and you never know. Remember how we all thought that we had voted in a Harapan government, then it changed to a PN government (which didn't even exist during the time we voted) and now if Anwar is successful, who knows what government we'll get that we didn't agree to?
[This article was originally written for and published at Malaysiakini.com]
Get Zan Azlee's best-selling book 'Liberal, Malay and Malaysian' today!
Buy more Fat Bidin books, films and merchandise at The Fat Bidin Store!