The loudest chatter on social media and at the mamak yesterday, and I'm sure is continuing today, is the fact that Umno president Ahmad Zahid Hamidi was appointed as deputy prime minister.
With multiple corruption charges ongoing and a background of warlord politics, many do not want him in the cabinet.
Another part of Prime Minister Anwar Ibrahim's announcement last night is that he is also now the finance minister. People are upset about this because one of Pakatan Harapan's campaign calls in 2018 was that the prime minister cannot hold any other portfolio, what more finance.
Remember when Dr Mahathir Mohamed was prime minister then and took up the education portfolio? The criticisms did not end until he gave up and appointed Maszlee Malik for the post. It was refreshing to see the once-authoritarian concede to the rakyat.
It is also a conflict of interest when the top man of the executive is also the one in charge of all the money. We will never forget the 1MDB scandal and how at that time, Prime Minister Najib Abdul Razak was also the finance minister. It just creates 'opportunities'.
However, if you think about it, there are justifications for these two decisions. The appointment of Zahid as DPM is definitely a politically strategic move. He is integral to pulling in BN support and without that, Anwar (above) would not be able to form the government.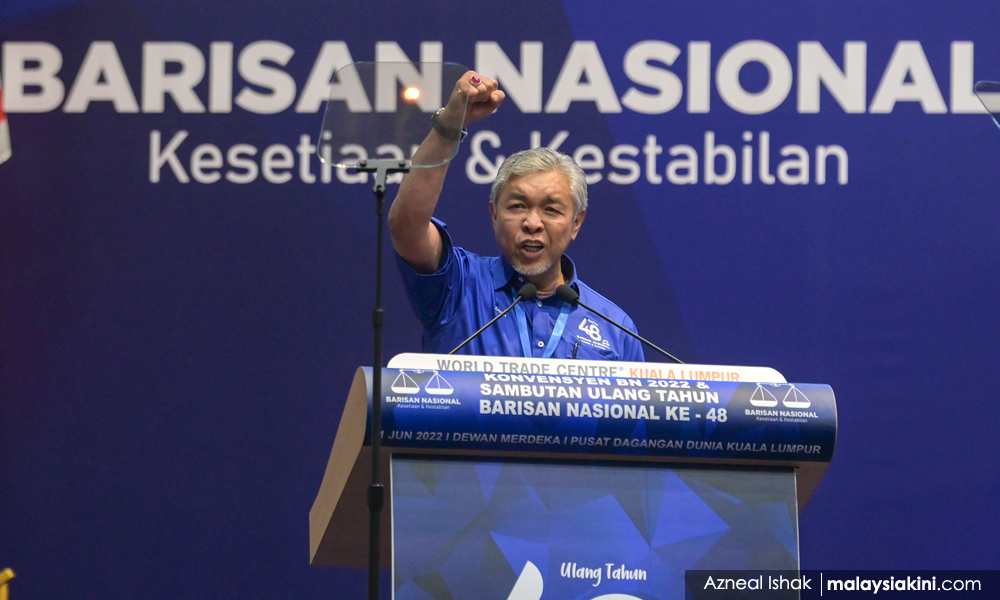 Anwar must make sure that he can rein in the Umno president if needed. At the moment, Zahid's tune has already changed for the better. His first statement after being appointed was one of humility, acceptance, and reconciliation. Take it for what you will but it is positive.
Of course, time will tell if this is sincere and will last. He still is facing trial and although everyone is innocent until proven guilty, it will be interesting to see how Anwar will handle the situation if Zahid is found guilty. Even if he is found innocent, some flak will come their way.
Being finance minister is also somewhat justified, although we need to really scrutinise his actions to come. As soon as Anwar was sworn in, the ringgit strengthened and the KLCI improved.
It seems to be a move that is supposed to create confidence in the economy. But like I said, we must not turn our eyes away.
Other than that, Anwar seems to have formed quite a formidable cabinet. He managed to keep it lean with only 28 members and 22 ministries. A reduction from the last administration's 32 ministers and 30 ministries. This is a significant attempt at reducing costs and spending.
There are five women appointed to ministerial posts. This ups the women's representation in the cabinet to close to 25 percent. This is still not the 30 percent that was promised in 2018, but it is still the highest composition in the history of Malaysia. And these women are definitely qualified too.
One of these women is Umno's Azalina Othman Said who is the de facto law minister. This is in line with what Anwar and Harapan have been fighting for.
Azalina would seem to be the right person too as she was vocal and aggressive in her criticism and push for reform and change in the last administration.
There is also a nice balance of experience and freshness in the lineup. Newcomers who I'm excited about and who definitely show potential are Fahmi Fadzil, Nik Nazmi Nik Ahmad, Hannah Yeoh, and Fadhlina Sidek.
We must also not forget that we also have our first deputy prime minister from Sarawak.
Anwar has been doing everything right so far ever since he was sworn in, right up to forming his cabinet. He has said the right things and done the right things, but it has only been slightly more than a week. There are another five years ago.
So many Malaysians are putting a lot of hope in this new government. They better not disappoint.
[This article was originally written for and published at Malaysiakini.com]
Get Zan Azlee's best-selling book 'Liberal, Malay and Malaysian' today!
Buy more Fat Bidin books, films and merchandise at The Fat Bidin Store!