A few days ago, my wife and I took our youngest son, Achilles Bustaman Azlee, who is one year old to Penang. One of the main reasons was to bring him on the iconic ferry ride from Butterworth to George Town on Penang Island before the ferries are retired. Most Malaysians would have experienced taking the Penang ferry service.
It was definitely a trip for nostalgic reasons. I'm 42 years old and the ferry service has been around for 126 years. I don't remember the first time I went on the ferry. I was too young. My parents had brought me on a road trip around Peninsular Malaysia when I was one and Penang was one of the stops. No bridge then, so it was the ferry that brought us there.
But over the years, I have been on the ferry so many times that I have lost count. But each time, it was an experience that was full of joy and fun. I remember when I was around nine, my family used to live in Alor Setar. We would go to Penang most weekends, and my parents would make it a point to take the ferry instead of the bridge.
We would line up with all the other cars and my parents' music would be blaring on the car cassette player, The Carpenters and Bee Gees, and we would be singing along. Once the car was on the ferry, we would all jump out and head to the second floor of the ferry. There was a tuck shop there and we would order drinks like Milo, soya bean or chrysanthemum tea.
What awaits once we arrive on the island is also something that we were anticipating. Penang was a place we went to eat good food, walk the beaches, enjoy the shopping and so much more. It was an all-round good and happy time. So my association with the Penang ferry has always been positive, happy and joyful.
The ferry wasn't just all for fun. It allowed lay people to get to and from work and whatever business that they had to conduct. It was a much more cost-effective way for pedestrians to travel instead of having to drive across the bridge. This was also so for motorcyclists. Taking the ferry was cheap and less taxing than having to ride across the bridge.
In fact, I remember when my father was working in George Town and I was in boarding school in Ipoh, there were times when I would take the train from the Ipoh station right up to Butterworth. From there, it just took a short walk from the station to the ferry terminal. I would meet my father at his office in the middle of George Town and follow him home.
I know that the ferry service has become a point of political contention now and, to be honest, how it's been politicised is quite annoying. The state government is blaming the federal government and vice versa. I don't know who else is blaming whoever else.
The decision has been made. Newer boats will replace these ferries, and these new boats can only take foot passengers. Cars will no longer have ferry service (motorcycles will have dedicated boats come 2022). Many reasons have been given, from the expensive maintenance cost (these are ancient relics!) to safety issues (these are really ancient relics!).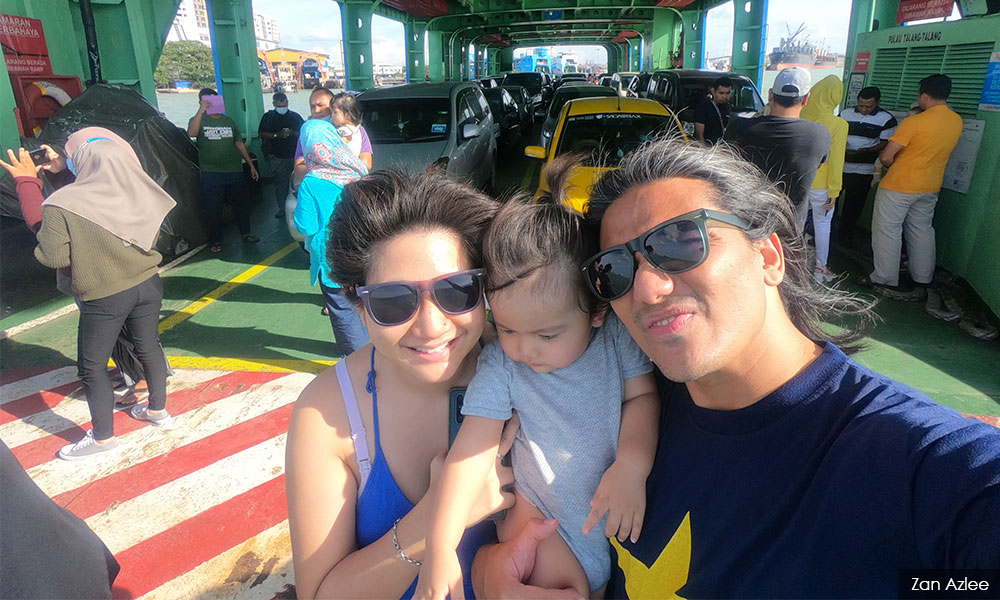 Zan Azlee with his wife and son on one last trip aboard 'ancient' Penang ferry.
I have to say that I can't disagree with the reasons. Just get on the ferries and you will know what I mean. They are run down and creaking everywhere. Any sane person would worry about sinking down to the bottom of the Malacca Strait. However, nostalgia gives everyone the courage to brave those rusty hunks of floating metal.
Time moves forward and so does technology. Things and services get better, more efficient and safer. That is just how it is and we have to accept that. I'm glad that I got the chance to share a little bit of my nostalgia with my three kids (my two older daughters have been on the ferry too many times).
But there is one thing that I hope will happen with the ferries. There are talks that the vessels may be converted into floating restaurants. That kind of makes me cringe. In my honest opinion, turning it into a restaurant just sounds distasteful and a disrespect to something that has been such a historical icon in the country.
It's exactly like how Pudu Jail was demolished to make way for the city's development, with only the front entrance being preserved as if to tease and make fun of its 125-year history. There could have been many other ways to develop the city and not totally ruin the prison's heritage. But that issue has long gone down the drain.
So for the Penang ferries, I am hoping for a much more dignified memorial. Turn them into monuments at the Sultan Abdul Halim Ferry Terminal. Or even better, create a museum at the terminal. I bet you Malaysians will still flock to use the ferry and enjoy the museum as they reminisce of the times when the ferry brought so much joy.
We remember the good times but also acknowledge the bad. Let's also not forget the tragedy that happened in 1988 when the bridge at the terminal collapsed due to overcrowding. Some 32 people died and more than a thousand were injured. The terminal was later rebuilt with better modifications for safety.
Goodbye Pulau Labuan, Pulau Rawa, Pulau Talang Talang, Pulau Undan, Pulau Rimau, Pulau Angsa, Pulau Kapas, Pulau Payar and Pulau Pinang. Thank you for all the memories.
For readers out there, how about sharing some of your fond ferry memories in the comments section and we can all be nostalgic together?
[This article was originally written for and published at Malaysiakini.com]
Get Zan Azlee's best-selling book 'Liberal, Malay and Malaysian' today!
Buy more Fat Bidin books, films and merchandise at The Fat Bidin Store!