Of course, I am extremely concerned with the drastic spike in Covid-19 infections. If anything, it proves that the virus is widespread in the community. Even I had to self-quarantine recently because I came into contact with someone who was in direct contact with a positive case. Fortunately, the infection did not spread and I'm fine and so is the person I came into contact with.
I also understand that for extreme situations like the pandemic we're facing, we most probably need to take extreme measures to manage and handle it too. What is important is that everyone must be aware of the basic SOPs that they need to take, such as wearing masks, washing hands, social distancing, contact tracing, etc.
If the situation calls for it, I can even back a conditional movement control order (MCO) or even a full MCO. So we've got an MCO now. That is understandable. But we have to make sure that the MCO serves its purpose in trying to manage the pandemic, yet would still allow society to function (albeit restrictively).
But then, an emergency has also been declared within 24 hours of the MCO being declared. We can debate all we want about whether this was a necessary move or not and I shall refrain from expressing my opinions about it at the moment because it really doesn't matter. It has been gazetted and it is happening.
What I am concerned about is how will the rakyat be represented to the government in this emergency. We understand that under the emergency, the executive and cabinet have almost full sweeping powers. Parliament is suspended and hence any ordinances that are raised do not need any approvals from the Dewan.
Okay, Prime Minister Muhyiddin Yassin mentioned in his statement that the government needs this because it will make it much faster and expedient if they have to take quick action in managing the pandemic. Well, that's what an emergency situation is all about, isn't it? But in a democracy, I feel that representation still needs to exist.
As you are reading this, the details of the Emergency (Essential Powers) Ordinance 2021 has already been made public. Trust the news organisations in the country to expediently process this information for all of us to consume and understand. And yes, as the prime minister said in his announcement, an independent special committee will be formed to advise the YDP Agong.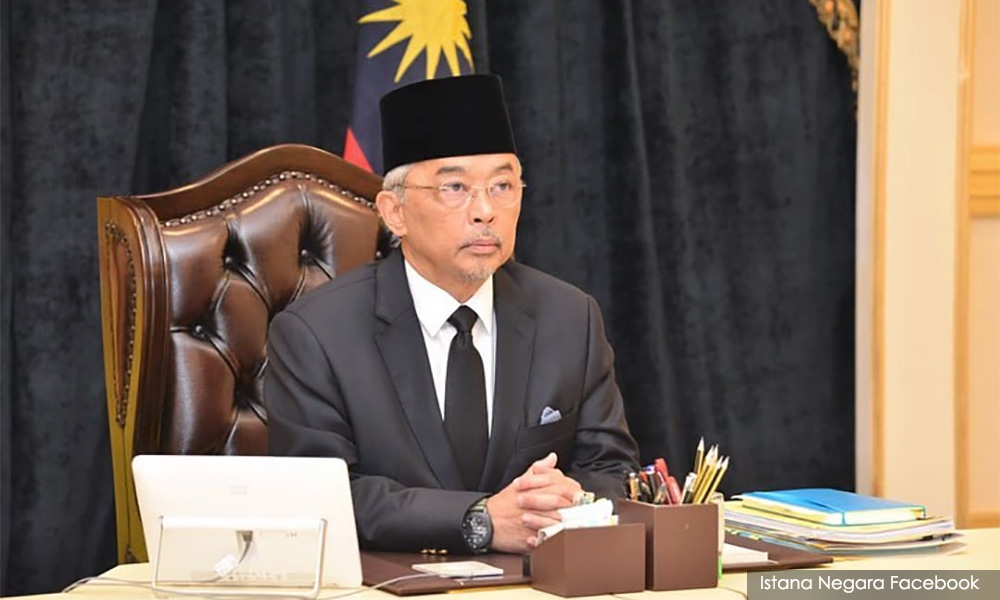 Yang di-Pertuan Agong Sultan Abdullah Sultan Ahmad Shah
I guess this is the element in the emergency that allows for representation. Okay, then I think it would be fair if the public were given a little bit more explanation about this committee. Who will be appointed to be a member? According to the prime minister, members of the government and opposition will be on it.
There have been news reports that say the opposition has been invited to give three names. But other than that, there really isn't much that anyone knows about the special committee. It is supposed to be independent. So if there are three members of the opposition in it, then how many representatives from the government will be included?
Also, will there be representation from members of civil society? Will unions be invited? How about associations and organisations that represent different industries? As we know, the pandemic affects every single member of society. The MCO affects every single member of society. An emergency will affect every single member of society.
I consider myself to be an ordinary Malaysian. The pandemic, the MCO, and the emergency have left me with all kinds of worries and concerns. How will the education of my children be like? They haven't gone to school for almost a year. How about my work and my ability to support my family? The economy isn't doing very well. I have family members who are elderly and sick.
I would want my concerns to be addressed and I believe many Malaysians would too. Now, I doubt any Malaysian would want to undermine the country's efforts in fighting Covid-19. Neither would I. We all want to fight the virus and fight to sustain the function of our society and country. But we also want things to be fair and just.
And we want to be assured that everything is being done in our best interests. That's all. If we are assured and feel that we are in trusted hands, then we will put all our faith in that trust and stand united with any effort to fight the pandemic and restore our society back to normal. In the meantime, wear a mask, wash your hands, and practice physical distancing.
[This article was originally written for and published at Malaysiakini.com]
Get Zan Azlee's best-selling book 'Liberal, Malay and Malaysian' today!
Buy more Fat Bidin books, films and merchandise at The Fat Bidin Store!