"Hey Zan! You know what's the fascinating thing about not being a minister anymore?"
"No. What?"
"Now I have extraordinary extra time to read more books!"
This was how Simpang Renggam MP Maszlee Malik, who is also the former minister of education, greeted me in the morning at his house as he walked down with a stack of about half a dozen books in his arm.
He put the stack of books down in his library/office and led me to the dining area. We had a breakfast date. I hadn't met him since he stepped down as minister. We both were pretty busy. I had a baby and he had to deal with a major political manoeuvre known as the Sheraton Move and being sacked from his party Bersatu, along with other leaders including the former prime minister, Dr Mahathir Mohamad.
So, how is it really like for a reluctant politician who, as a first-term MP, was suddenly picked as a member of the cabinet, then voluntarily resigned, and right after, navigated through one of the country's most volatile political turmoils?
"God always has a plan," Maszlee said, smiling.
Ever since Maszlee entered politics, he hasn't had an easy time. According to him, the entry to his political career was a baptism of fire. But he has persevered and he always repeats the phrase "God always has a plan", and "Wherever I'm destined, I will serve the people first."
But no matter what the general public thinks of him, Maszlee is truly a man of the people. Just ask his constituents and really anyone who has interacted with him face to face. He exudes a sincerity and genuineness that you rarely find in a politician.
It could be because the man has never wanted to engage in political games. From day one, he has always said that he just wants to do the work and serve the people. During the times when he was criticised as a minister, I used to tell him that he needed to strategise politically.
"I don't want to play politics Zan. I believe that my work will do the talking and being a minister is my chance to contribute to the country and the people," he would say.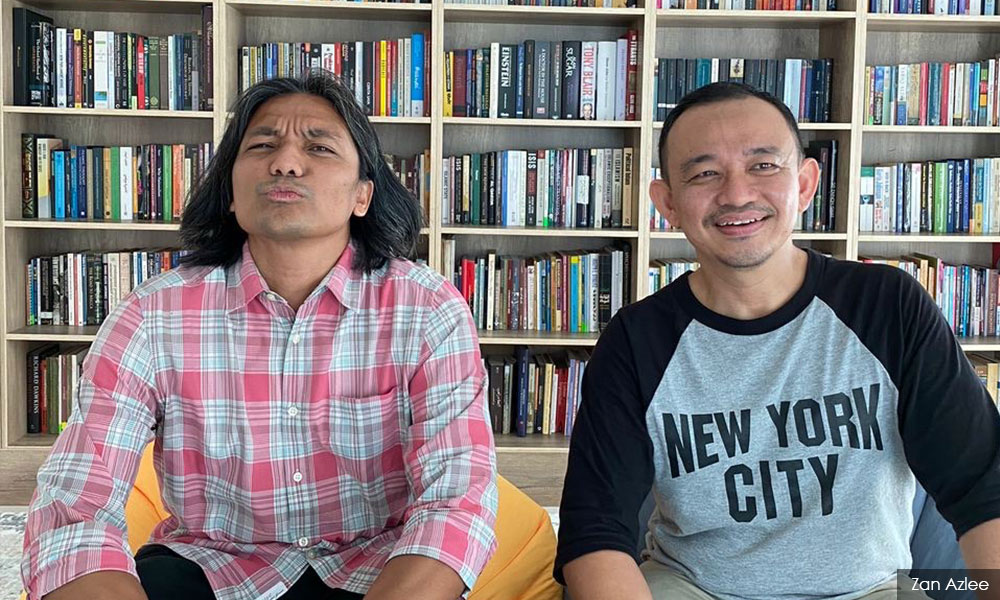 Zan Azlee with Maszlee Malik
I have to admit that is very noble and one of the reasons why I respected him. But then, that is also the exact reason why Maszlee became a very easy target as a political scapegoat. He wants to be a politician who doesn't want to play politics.
"It's quite surprising to discover that I can still do a lot to help people, even when I am no longer a minister and just a regular MP," Maszlee said as he scooped a big fish onto my plate of nasi dagang.
"How so?" I asked.
It seems that when an MP isn't a minister, he gets to spend more time in his constituency and really listen to the people's needs and plights. Also, not being tied down by bureaucracy and the cabinet allows him to make more noise and raise attention.
The extra time that he has also allows him to think of more ways he can do to help the people. Maszlee and his team are planning to set up an NGO that will, hopefully, match children and families from marginalised communities, as well as educational institutions in need with individuals and organisations that have the resources to help.
"It's like a matchmaking app using the block-chain, artificial intelligence and big data algorithm. I'm going to rope you in soon, Zan!" he smiled as he poured me a third cup of coffee.
So, what's the deal with this new party that he's a part of now? Oh, you know the one. It has Mahathir in it, Mukhriz Mahathir, Marzuki Yahya and a handful of other MPs and state assemblypersons. Pejuang.
"It's a small party. Really small! We're only just about to go around recruiting" Maszlee said.
Why another Malay-based political party?
Well, size doesn't matter to me. What matters is the motion in the ocean and my biggest question is why another Malay-based political party? According to Maszlee, the Malays who are in need are really in need, and being the majority, it's very unfortunate to be the group that has the most problems and requires unique solutions that might not be applicable to other communities.
"Which doesn't mean that the other races don't need help too. But Pejuang is small, so we plan to be a party that offers service and assistance to the people, whether we're in power or otherwise, and engage with and work with other parties that have those interests," he explained.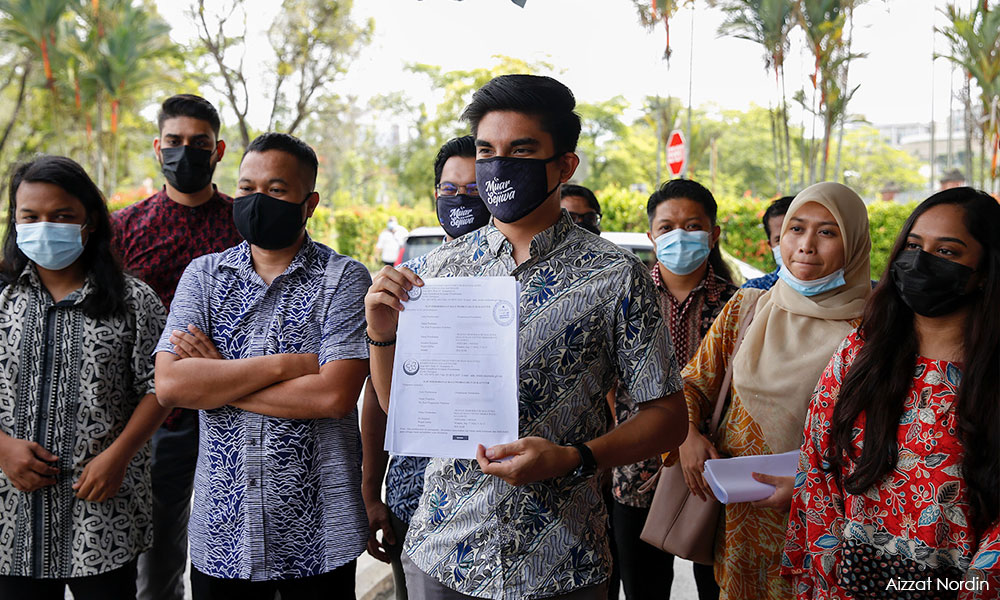 Syed Saddiq (centre) holding a copy of the registration form he filed to set up Muda.
That is one of the reasons why Pejuang will be working closely with former youth and sports minister Syed Saddiq Syed Abdul Rahman's new youth party, Malaysian United Democratic Alliance (Muda). Maszlee explained that Muda is not only multiracial but has the support of the future of the country – the youth.
"I also told Tun M that we can't have the same old people who're mainly politicians in the party. We need to have more professionals, intellectuals, industry practitioners, activists and people from all walks of life in office. We should be a party of activists and service people who serve the people beyond its political remit, rather than remain with the old approach, where political parties only run for power and positions. That's how we can bring change," Maszlee said.
It seems like a plan. However, I am still a bit sceptical of another Malay-based party being formed. But knowing Maszlee, he doesn't have an ounce of racist intentions in him and I am convinced that he genuinely believes that this is the best way to help all of Malaysia for now.
"I believe in justice, equality for all and good governance, but we must do things gradually, strategically and transitionally in Malaysia. We have to understand how our society works," he said.
He referred to some of the policy changes he made while in the Ministry of Education. For example, his policy of providing education for all children regardless of citizenship. This move saw many underprivileged children enrolling for school, including close to 3,000 undocumented children.
"This wasn't just for refugee children, but also Malaysian children who were born out of wedlock or from problematic inter-racial and inter-religious marriages. They still have the right to an education," he added.
The same 'Zero Reject Policy' too was applied to children with special needs, which has been given extra attention during his tenure, and was very well accepted by the special needs community and the parents of those children with special needs.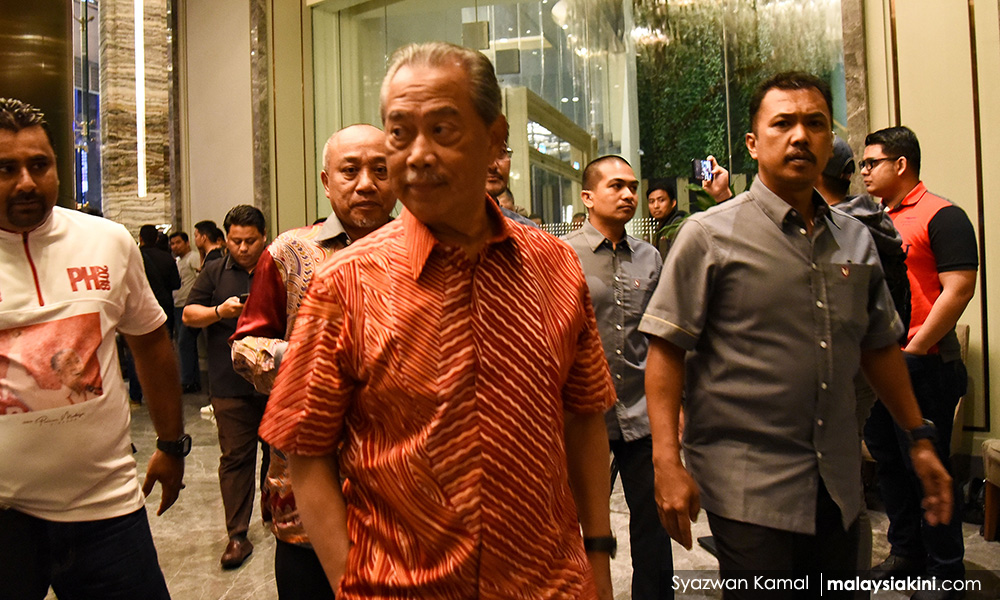 Getting set for the historic 'Sheraton Move'…
Standing up for what the people want is important to Maszlee and that is the main reason why he decided to leave his academic career and join politics. And that's why, during the Sheraton Move, although he was offered certain lucrative posts and perks, he declined.
"Although it was very enticing, I don't think I would be able to sleep at night, and I wouldn't even be able to look at my face in the mirror if I had jumped and become a traitor," he said, laughing.
"So do you ever regret leaving your job as a lecturer at the International Islamic University," I asked, seeing that his new career as a politician has been nothing but volatile.
"Not at all! No pain, no gain! All I wanted was to help the people and now I am in a position to do so. And that's my crusade (or jihad)" he said, with a big smile.
Then our conversation steered away from politics and work and he told me about a Stephen Hawking book he just read while I updated him about my kids. We were done with breakfast, right on time as his team arrived for a meeting to discuss his new NGO.
"I thought you were coming over with Sheril, Achilles and the girls. That's why there was so much nasi dagang. Next time bring them along!" Maszlee said as he walked me to my car across the road.
[This article was originally written for and published at Malaysiakini.com]
Get Zan Azlee's best-selling book 'Liberal, Malay and Malaysian' today!
Buy more Fat Bidin books, films and merchandise at The Fat Bidin Store!